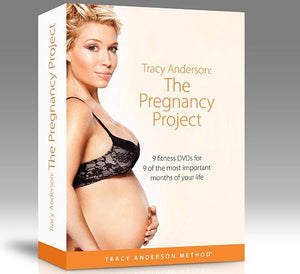 Tracy Anderson - The Pregnancy Project DVD Set
Tracy Anderson
Regular price $49.99 $22.95 Sale
While pregnant with her son 13 years ago, Tracy gained over 60 pounds. It was this significant weight gain, along with a weight gain that Tracy experienced while studying dance, which propelled her to research and develop the Tracy Anderson Method.
After announcing her second pregnancy in 2012, Tracy Anderson began production on a series of pregnancy workout DVDs to serve as a guide for women throughout their pregnancy.
Similar to Tracy's successful Metamorphosis DVDs, this series contains many more tools than just the workouts. The series contains nine different workouts, one workout focused on each month of pregnancy, which Tracy filmed in real time.
This series contains nine DVDs/workouts, one for each month of pregnancy. The 35 to 55 minute workouts center around muscular structure work that's rigorous enough to raise your heart rate, without creating any risk for your baby.
Join me as we journey through pregnancy together, keeping our bodies fit and healthy as we prepare to give birth.
MONTH 1: This is your first month of pregnancy. You're likely to often feel tired. Together we'll take it slow, listening to our bodies and finding our center.
MONTH 2: You're starting to really feel your pregnancy now, and nausea may be an issue. We'll work on range of motion, stretching and keeping our muscles strong and in proper alignment.
MONTH 3: We'll tone and stretch with a range of arm and leg exercises. Plus we'll continue to strengthen our abs while this is still a possibility.
MONTH 4: Hurray! You're now entering your second trimester. Hopefully your nausea is gone. We'll focus on lifting your butt and keeping you looking healthy.
MONTH 5: It's month five, and your energy is back. We'll continue to focus on lifting your butt, while we keep you moving and feeling strong—without overdoing it!
MONTH 6: You're recognizably pregnant now. We'll continue to keep you connected to your muscles, allowing your body to do what it needs for the pregnancy.
MONTH 7: You're entering your third trimester. Your baby has grown a lot. Now we'll concentrate on preparing our bodies for the birth. We'll focus on circulation and staying strong and flexible.
MONTH 8: The baby is really growing. We'll continue to move in order to keep our energy up and stay connected to our bodies, which are starting to feel a little foreign.
MONTH 9: We're preparing for birth. The goal is to open up your hips. We'll reduce the complexity of our movements but continue to work on circulation as we wait for our blessings to arrive.