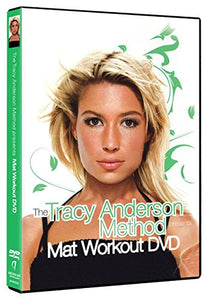 Tracy Anderson - Mat Workout DVD
Tracy Anderson
Regular price $29.99 $17.95 Sale
This is the first Tracy Anderson Method DVD and is a great introduction to the Method and the muscular structure workouts that you will be completing while on the Method. I recommend that you begin with this DVD first and that you use this workout to wake up your muscles, invigorate your body, and build up your stamina as you gain strong fundamentals in the Method. I offer a lot of advice in the commentary throughout the workout and it is a really comprehensive overview of the Method and an excellent starting point for any level of ability. You should do this DVD for at least 1 month or until you have mastered the entire workout and feel you have gained strength to move to the next level. This DVD should be used in conjunction with the Tracy Anderson Method Dance Cardio DVD. The goal of all of my DVDs is for you to become strong enough to begin Metamorphosis, which is customized by your specific body type and what all of my clients do. This is where the magic begins but it is very beneficial to learn the basics of the Method with this mat DVD first. It is crucial that you don't stay on one of my programs too long because then the workout stops working for you and we will lose the hard work and momentum towards your goals. I am so excited to begin this transformation with you!
Love, Tracy


About the Actor
Tracy Anderson started dancing as a child, and at age 18 she traveled from her hometown in the Midwest to New York, determined to realize her life-long dream of becoming a professional dancer. After experiencing a considerable amount of weight gain, she began to experiment and create her own workout methods that led to a complete transformation of her own body.

Alongside her work as a dancer, Tracy decided to study and research muscle structure and specific training techniques. Armed with the knowledge from her research, she developed a computer software program for training to guide her and allow her to keep the balance between weight loss and a healthy body.

After 10 years of extensive research and development, Tracy has designed several fitness systems -- including bands, bars, and cubes. These systems challenge the small muscle groups by offering resistance as well as forcing the body to rely on its balance. Tracy also designed the Hybrid Body Reformer, an apparatus that uses a fusion of aerobic and dance movements, to re-engineer the muscular structure. The overall mission of Tracy's method is to strengthen the smaller muscle groups so that these muscles can pull in the larger muscles -- which results in a lean figure that is not bulky. Tracy's method has transformed the bodies of countless women to their tiniest, strongest points, and she has helped her clients achieve toned and defined bodies with smooth and firm skin.

In order to share her technique with people around the world, Tracy has released three top-selling fitness DVDs and Her Perfect Design Series I-III, Dance Aerobics and Dance Cardio. Tracy's latest project, Metamorphosis by Tracy Anderson, was first released in early 2011 and still actual now. This unique approach to at-home fitness training offers 4 different series of DVDs based on 4 different body types. It is a 90-day program and consists of 1 disc for every 10 days of muscular structure work and a dance cardio DVD. Upon completion, you can enroll in Continuity, which continues with a new disc of muscular structure work every 10 days (for your body type) and a new dance cardio DVD every 90 days.

Tracy's list of celebrity clients includes Gwyneth Paltrow, Jennifer Lopez, Courteney Cox and Kristin Davis. She is constantly developing new moves, routines, and techniques to ensure that her method stays fresh. Tracy has studios in Los Angeles, New York City, and a summer location in the Hamptons. Trainers are also available for private training in London.